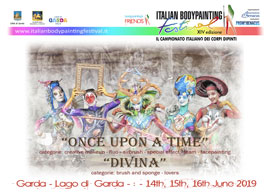 24th october
... and here are the expected themes of the XIV edition of Italian Bodypainting Championship
"ONCE UPON A TIME":
- Friday, June 14th 2019, for the categories "Creative Makeup" and "Fluo" ;
- Saturday, June 15th 2019, for the categories "Special Effects", "Airbrush", "Team" and "Facepainting".
"DIVINA"
- Sunday, June 16th 2019, for the categories "Lovers" and "Brush & Sponge".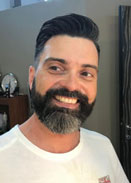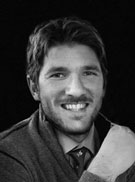 6th april
CARLO CHIURCO and EDOARDO PERETTI: in the jury 2019 fot "interpretation of the theme, idea and originality" click here
20th march
One of the most important partnerships for this 14th edition of the ... click here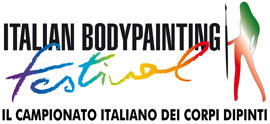 8th January
Welcome to the website of this 14th edition. If you want to see again the pics and the news from last years, go at the gallery.


25th may: FRANCESCA CAVICCHIO, GILBERTA BIANCHIN, GLORIA BORDIN e MARZIA BEDESCHI in the jury 2019 for "artistic ability, quality of the painting" click here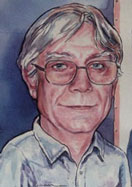 22th march
MILO MANARA e GIANCARLO ZUCCONELLI:
in the 2019 jury for "quality and appearance of the work of art" click here
16th January
Pubblished the regulation of Italian Championship of Boypainting 2019. Click here
Still exclusive images 2018
Exclusive images of 15th, 16th, 17th June
Here the news of the connected circuit at the Italian Championship
3rd february
Great success for the second edition of the Harry Potter Bodypainting Contest, held on Saturday 2th February... read news
29th november
The Harry Porter Bodypainting Contest is the first contest in 2018 dedicated to the art of Bodypainting, ... read news