BODYPAINTING'S FRIENDS
The Italian Bodypainting Festival is looking for partnerships with all the bodypainting festivals (smaller or bigger) in Italy, trying to create synergies and experience exchanges that will permit a faster development of the bodypainting movement in Italy.

So we decided to create "Bodypainting's Friends".

Starting from the 2015 edition all the bodypainting festivals, from June 2017 to May 2018, affiliated to the "Italian Bodypainting Championship" will have the chance to make their winner participate to the final of the Championship, skipping the selection day.

These are the rules for the adhesion to the Bodypainting's Friends:

Foto Marco Tosi

1) the adherence to Friends will be free;
2) the production of "Italian Bodypainting Festival - The Italian Bodypainting Championship", during 2018, will offer room and board for one night to the winner;
3) the adherent challenge guarantees to its winner the free participation to the 2018 Italian Bodypainting Championship;
4) the adherent challenge, for its finals, will offer the travel, room and board to a delegate of the Italian Bodypainting Festival, who could also take part in the jury;
5) the Italian Bodypainting Championship gives its partnership to the adherent challenge and the Promobenacus Production (owner of the trade mark) gives the authorization to use its logo.
CONTEST or FESTIVAL PARTECIPATING FOR 2017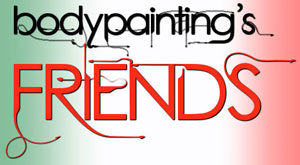 BODYPAINTING'S FRIENDS are:
TOSCANA

saturday 13th May 2017

MONTECATINI BODY ART - Montecatini, Pistoia


Tiziana La Monica - tizzilm@yahoo.it - 3383454740

https://www.facebook.com/Montecatini-Body-Art-Color-your-Skin-228402974205956/?fref=ts

======================================================================================

SICILIA

thursday 1st e saturday 3th June 2017

KERMESSE DI BODYPAINTING - Catania


Giovanna Patanè - sfumaturedarte@hotmail.it - 3475539410


https://www.facebook.com/Kermesse-di-bodypainting-518550448300489/?fref=ts

======================================================================================

LAGO DI GARDA

saturday 17th e sunday 18th june 2017

ITALIAN BODYPAINTING FESTIVAL - Garda, Verona


Enrico Bianchini - enrico@italianbodypaintingfestival.it - 3356778448


http://www.italianbodypaintingfestival.it

======================================================================================

LOMBARDIA

saturday 1st July 2017

CASTELEIRA INTERNATIONAL BODYPAINTING COMPETITION - Bormio, Sondrio


Tiziana La Monica - tizzilm@yahoo.it - 3383454740

http://www.sullaviadellestreghe.it

https://www.facebook.com/Sulla-Via-Delle-Streghe-1344636615627058/

======================================================================================

MARCHE

friday 14th July 2017

BODY ART - Premio Internazionale - Porto San Giorgio, Fermo


Lucia Postacchini - lucia.postacchini@hotmail.it - 3407154595

https://www.facebook.com/Body-Art-Premio-Internazionale-Darte-1754297768150755/?fref=ts

======================================================================================

TOSCANA

saturday 29th July 2017

CIVITAS INFERNALIS - Sarteano, Siena


Simona Meloni - fenice53@gmail.com - 3479639079

======================================================================================

LAZIO

saturday 5th August 2017

CIRCEO BODY ART CONTEST - San Felice Circeo, Roma


Sonia Ricci - fiestaanimazione@gmail.com - 3288379401

======================================================================================

under costruction

VENETO

Returned to June 2018

BODYPAINTING NELLE DOLOMITI - Auronzo di Cadore, Belluno


Elisa del Favero - elisadelfavero@libero.it - 3460729978

https://www.facebook.com/Bodypainting-nelle-Dolomiti-1609560636000399/?fref=pb&hc_location=profile_browser

======================================================================================

SARDEGNA

saturday 2th September 2017

SARDINIA BODYPAINTING CONTEST - Padru, Olbia


Direttore Artistico - associazionenuraghe@gmail.com - 3348118426

======================================================================================

TOSCANA

saturday 9th September 2017

BODYPAINTING IN VETRINA - Lido di Camaiore, Lucca

Tiziana La Monica - tizzilm@yahoo.it - 3383454740


https://www.facebook.com/bodypaintinginvetrinalidodicamaiore/?fref=ts

======================================================================================

LOMBARDIA

sunday 17th September 2017

CELTIC CONTEST - Busto Arsizio, Milano

======================================================================================

under costruction

saturday 25th e sunday 26th November 2017

MODENA BENESSERE BODYPAINTING - Modena, Emilia Romagna