24th june - THANKS
A week ago, at this time, the 13th edition of the Italian Bodypainting Championship was about to end. We hope (but after all we are convinced) that it remains in the hearts of those who have lived it... winners and... losers!
We thank first of all the about 250 ARTISTS and the almost 100 MODELS which are the soul of the Festival. These include, in particular, those from Chile, Ukraine, Israel and many European countries. Click here
9th june
Fourth in jury Vince Tempera Click here
31th may
An important partnership for this 13th edition of the Italian ..... Click here
8th may
Third in jury Leonardo Borgese click here
28th march
First in the jury Nicola Loda Click here
15th January
The photographers and videomakers can access the photo sets of the Italian Championship 2018.
The regulations are contained in the photo contest "Color on the skin 2018" (Colore sulla Pelle 2018) valid for all the circuit Bodypainting's Friends. Click here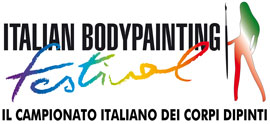 13th January
Welcome to the website of this new edition, the 13th. If you want to see again the pics and the news from last years, go at the gallery.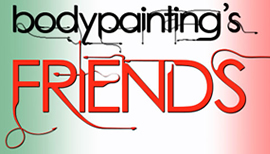 Here the news of the connected circuit at the Italian Championship
15th may
The third edition of Montecatini Body Art Color Your Skin was successfully completed, with ... read news
2nd may
The Bodypainting nelle Dolomiti will be back. At its fifth edition, it s the longest-running contest after ... read news
26th april
And so the first Brixia Benessere Bodypainting is closing down. Organized by Marilena Censi ... read news
4th april
Last Monday, the Harry Potter Facepainting Contest, organized by Daniela Cavatoni, took place... read news
28th march
"We all won!!" According to Veronica Bottigliero it was a great satisfaction to be able to begin ... read news
15th march
The second edition of the Circeo Body Art will take place Saturday, June 30th in the stunning archeological ... read news
13th march
In this 2018 there will be also the Harry Potter Facepainting Contest in a stunning location such ad ... read more
12th march
The first event of Regione Campania about the Bodypainting Art will be the Caserta Bodypainting Contest read more
9th march
Here we are, ready for the third edition of Montecatini Body Art - Color your skin. It will take place in the Villa ... read more
15th february
The 5th Edition of Kermesse di Bodypainting is finally ready! For the second year, it will be part of ... read more
12th february
The Sanremo Palafiori hosted the first Sanremo Bodypainting Contest on February 10th 2018. ... read more
7th february
The third contest of this 2018 edition inherent to the circuit: the Brixia Benessere Bodypainting, on April 21st and 22nd at ... read more
5th february
A remarkable success with the public for the Harry Potter Bodypainting Contest, set last sunday 4th February... read more
16th dicember
Another important big news for 2018: the First edition of the "Sanremo Bodypainting Contest", taking place... read more
15th dicember
The Harry Porter Bodypainting Contest is the first contest in 2018 dedicated to the art of Bodypainting, ... read more